Morecambe Bay Slings CIC (MBS) is your local baby carrier library, where you can try and hire one of our 200 different slings and carriers! We really have something for everyone!
We can also help you with your own baby carrier, making sure that you are carrying safely and comfortably.
Our Lancaster sling library sessions are currently running every other Monday from 9.30 – 11.00, and take place at The Herbarium in Lancaster – please check our booking link for availability and to book a slot. We charge a small booking fee for the in-person sessions to cover our costs. We also have 'social' slots at our sessions if you are just looking for somewhere welcoming to go to with your baby or toddler but don't need any baby-carrying help.
We have a scheme for new parents (baby under 6 weeks old) where we will teach you to use one of our stretchy wraps and loan it to you for 4 weeks for free!
Our sling library is run by experienced and qualified babywearing consultants and our sessions are supported by peer supporters (all of who are volunteers). You are welcome to come and join on a social basis if you don't wish to hire –  we have a wealth of parenting experience and love cuddling babies! Our locations are all breastfeeding-friendly too so you can feed in confidence.
Why use a sling/baby carrier library? Slings and carriers (we use these words interchangeably to describe all of the carriers that we stock) are a wonderful way to parent when you have a newborn who wishes to be held all of the time, allowing your baby to feel safe whilst you can get on with the things that you need to do.  Research tells us that a securely attached baby turns into an independent child so you aren't 'creating a rod for your back by slinging, quite the opposite in fact! But there are so many different types of carriers out there, parents are different shapes and have different physiological needs, as do our babies.
Using a sling library gives you the option to try until you find what works for you and your child, with the support of an expert who will ensure that you are doing it right!
Some happy parents with their sling library slings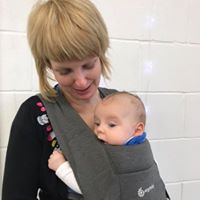 Babies grow quickly too, so their carrier needs change quickly. Again by hiring you can ensure that you have the right carrier at all ages and stages.
Going on holiday or to a wedding? We'll have something that works in the heat (or with your outfit)!
To meet other parents. Having a new baby can be very isolating. You will always be welcome at our meets whether or not you hire a sling.
How things work:
We are running our Lancaster sling library sessions on a Monday morning at The Herbarium in  – please check our booking link for availability and to book a slot. 
If you can't make it to our Monday sessions please get in touch, we will happily arrange a video consultation for a small charge, or you can ask us about one-to-one/group consultations –  read more here 
If you'd like to swap a carrier or hire something for the first time without an appointment, please contact us and we'll arrange for you to come and collect one from either us in  Morecambe or Lancaster 
If you have a sling on hire and wish to return it, you can message us and arrange to return it either to Tamsin in Morecambe, or Abi in Lancaster.
We will automatically renew your hire if we do not hear from you before 1 pm on the day that your carrier is due for return, using the card details that you have provided us with.
If you are planning on hiring from us for the first time, please create an account with us, making sure to add your address and mobile phone number, and card details. Thanks! 
Please note that we charge usually £4 to help you with your own carrier if you are not a sling library member. See our T&Cs for all the info on membership and hire.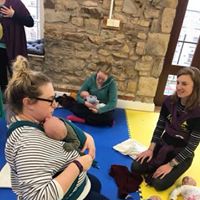 Use our chat option (we'll reply as soon as possible), find us on Facebook or call (or text) Tamsin on 07747698747 if you have any questions!